My aching back...
Today Rod found an ad in the newspaper for a sectional sofa for sale. We have been looking for new living room furniture forever it seems, but we just can't afford to buy new at this point. So we have been watching the classifieds and today finally found a sectional that we wanted. We went and looked at it, bought it, and then proceeded to try and fit the whole thing in the back of the pickup. It's a monster sectional! Right now it's 1:30 a.m. and I just went to the living room and took a picture of the sofa. Of course there are two boys on it who pleaded to be allowed to sleep on it the first night. You know how it is...anything new is heaven to a kid! So here are my boys zonked out on the sectional.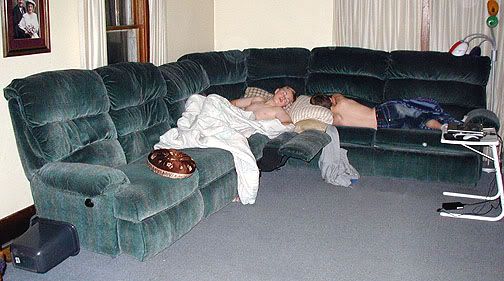 It's really big, isn't it? And heavy! After carrying it from the lady's house and loading it in the pickup and then carrying it in our house and setting it up, we were all walking around like chimps.
Son Tim is getting to be quite the entrepreneur. He was feeling quite broke, so today he began listing all his outgrown toys and Yugioh cards on Ebay. Once I showed him what to do the first time, he went ahead and did the rest all by himself. He's 11 years old. Here is one of the things he's selling, night vision lighted goggles.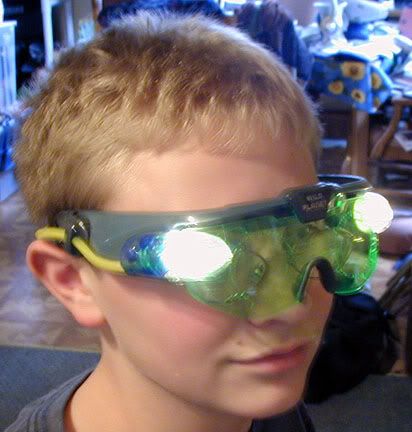 And his Bow Lingual. That's our dog, Riley modeling the part that the dog wears. The idea behind Bow Lingual is you put the transmitter on the dog and hold the wireless monitor. It picks up your dog's barks and translates them. It can tell you if your dog is happy, sad, lonely, angry, etc. It never worked very well for Tim, mostly because Riley very seldom barks.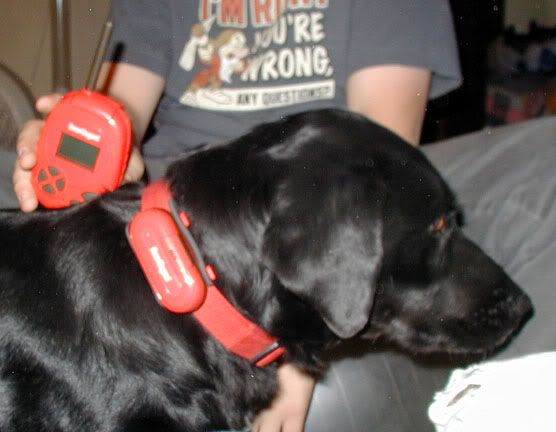 I had some hand-painted wool yarn that a friend had sent me, so I decided to crochet some things out of it. I made a hat and tried to felt it but it wouldn't felt. So I made a drawstring bag and felted that in the washing machine and it woked great. Here is a picture of the bag before felting.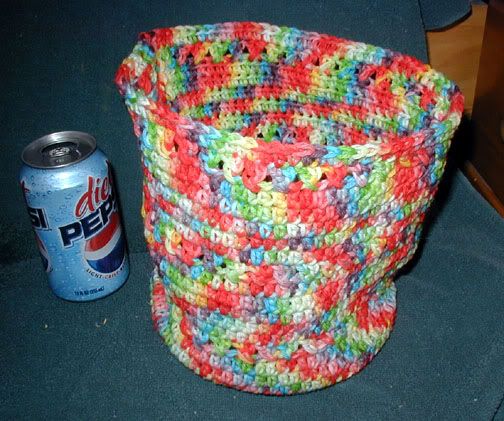 and here is the finished bag after felting. The soda can was used for scale.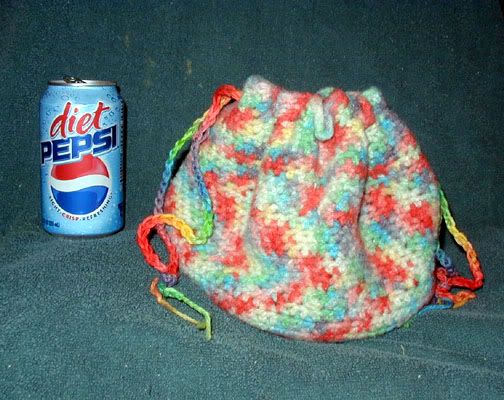 I'm back to working on mittens for the kids for Christmas. As I wrote before, these are the 100% merino wool mittens. I am felting them in the washer and this yarn felts beautifully. The yarn is Lion Wool Prints in flower garden. Here's what I've gotten done so far.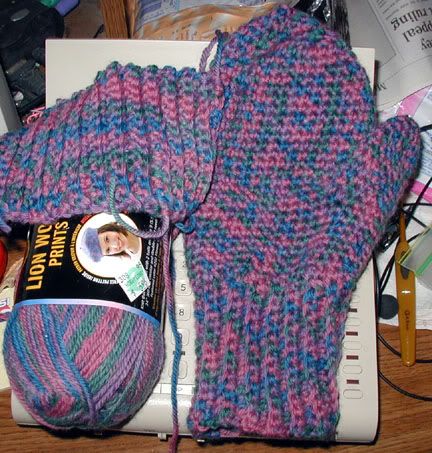 I've got one mitten and the cuff for the other one done. The mitten is rather large and also oddly shaped. That is because the item shrinks when felted but it doesn't shrink all ways the same. This yarn shrinks width-wise much more than it does height-wise. So it is made just a little bit longer than normal but more wider than normal, with a wider thumb because the thumb, as I discovered on a trial pair, also shrinks in width. So hopefully it will come out just the right size for a 10-year-old girl.
Nitey-nite! :)