Bag of candy
I picked up the mail today and look what came!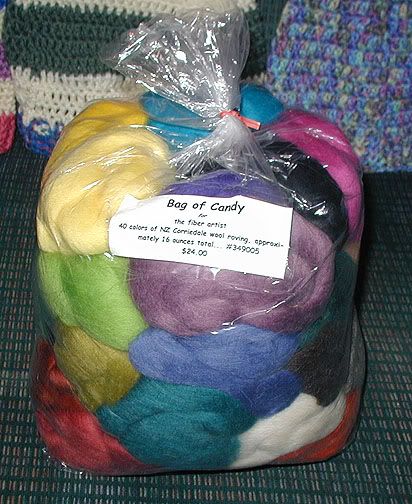 It's called the felter's bag of candy from Mielke Farms, and it really does look like a bag full of different colors of cotton candy. It's actually 40 colors of dyed wool roving that I'm going to use to teach myself how to do needle felting. At least that's the plan. I know the basic concept, but have yet to put it into action. In other words, I'm chicken to start! I want to put some felt decorations on the kids' mittens I'm making for Christmas but I have a confession to make....I'm no artist! Guess I'll just have to start with something simple and practice on one of my gauge swatches. Will post pics when/if I get anything done!
I think I've crocheted enough long hats for now, don't you? :)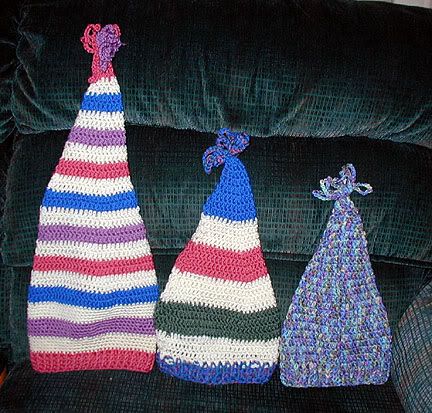 They look kind of like the three bears!
This is a ski mask and matching mittens that I'm making for Nick for Christmas.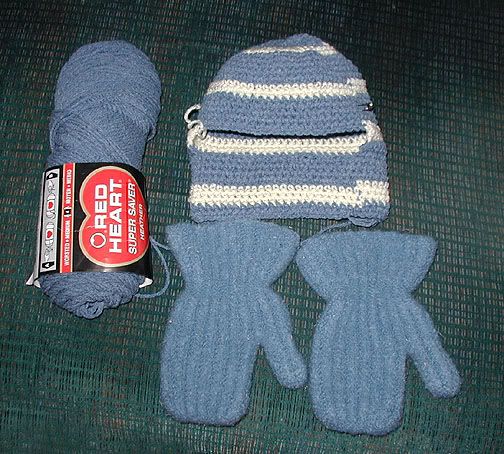 I made up the pattern for the ski mask but have yet to write it down. I hope I can remember it and also remember how to finish the mask. I tend to get too many projects going at once. The mittens are felted wool and should be nice and warm. They certainly are soft.
I picked up some of the Yarn Bee Frosting yarn at Hobby Lobby today. It was on sale for $2.46 a skein. I'm trying to make a top for Isabella but might have to frog it and start over because it looks a little small for her as is. This yarn is so furry that the sweater is going to be really thick and that may pose a problem later on when I'm trying to sew it together. I'm afraid the armholes won't be big enough.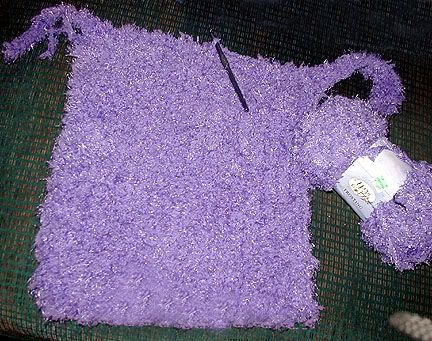 The pattern is a real easy one that I found online. The top is crocheted all in one piece. Here's the diagram from the pattern so you can see what I'm talking about.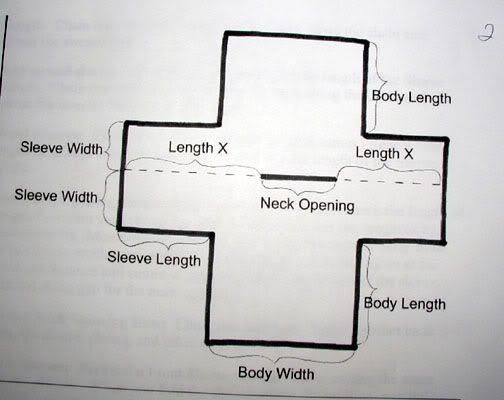 Other than that, I just have two afghans, three pairs of mittens and hats, and a pair of slippers to get done before Christmas. That is, if I don't see some yarn in the store that just calls out to me and says, "Scarf, scarf" or "sweater, sweater"! :)